OMC Monthly Ride – 29 January 2023 – Sunday – Azusa to Newport Beach
OMC Monthly Ride – 29 January 2023 – Sunday – Canyon Surfers of the OC

Event Details:
When: Sunday, January 29, 2023 – 10:00 AM – 2:00 PM
Mileage: 91.5 miles
Time: 2 hr 44 min
Description: Join us on a scenic ride from land to sea, as we carve through the canyons of Orange County. Our destination will lead us from Azusa all the way down to Newport Beach. Some of the Canyons we ride include:
Carbon Canyon
Santiago Canyon
Trabuco Canyon
Laguna Canyon
Along the way, we will stop at Cook's Corner, a popular biker joint for lunch and afterward visit Dianese Orange County to check out their cool motorcycle gear. Please be fueled up and ready to go. Enjoy the ride.
Itinerary:
9:45 AM – Meet-Up @ Starbucks / 890 E Alosta Ave, Azusa, CA 91702 / www.starbucks.com / +1 626-335-6763
10:00 AM – Kick Stands Up!
11:30 AM – Lunch @ Cook's Corner / 19152 Santiago Cyn Rd, Trabuco Canyon, CA 92679 / www.cookscorners.com / +1 949-858-0266
1:30 PM – Stop @  Dianese – Orange County / 1645 Superior Avenue, Costa Mesa, CA 92627 / www.dainese.com / +1 949-650-2300
2:00 PM – End @ Six Beans Coffee / 1914 Newport Blvd, Costa Mesa, CA 92627 / www.sixbeanscoffee.com / +1 949-877-0077
Route: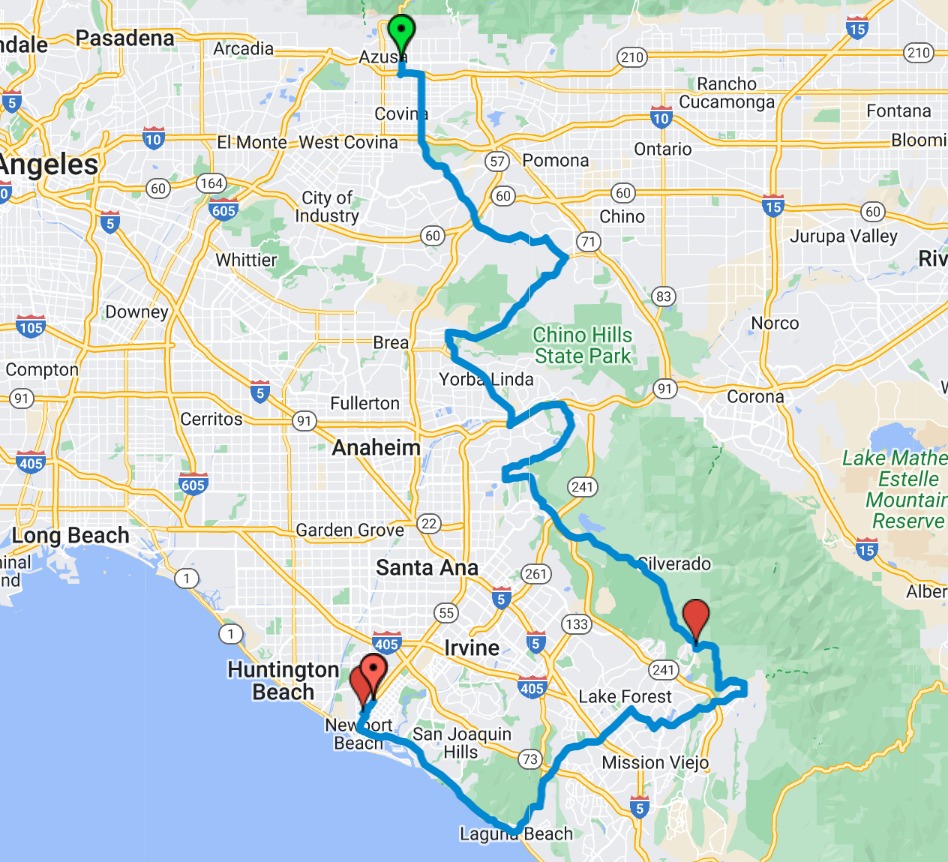 Route Map: Google Maps Link
Download Garmin GPX/Track
Download PDF Printout
Ride Roles:
Planner: Howard
Leader: Greg
Sweep: TBA
Ambassador: Howard
Join the Discussion and share your awesome pictures in our Social Media links below.
Facebook ———> CLICK HERE
Meetup ————> CLICK HERE
Instagram ————> CLICK HERE