OMC Monthly Ride – 4 November 2023 – Saturday – to Lake Elsinor
OMC Monthly Ride – 4 November 2023 – Saturday – Jack's BBQ
---
Event Details:
When: Saturday, November 4, 2023 – 11:00 AM
Mileage: 60 miles
Time: 2 hours
Description: We begin the ride in Orange and ride south on Santiago Canyon Road to Cook's Corner. From there we follow a quick twisty and expressway to Ortega Hwy (Hwy-74). East on Ortega Hwy past Lookout Roadhouse and then down into Lake Elsinore and Jack's BAR-B-Q for lunch.
This is a repetitively short ride, only 60 miles. We'll sleep in and start the ride about 11:00AM.
Itinerary:
11:00 AM – Meet-Up @ Tru Bru Organic Coffee / 7626 E Chapman Ave d, Orange, CA 92869 / http://trubrucoffee.com/
11:15AM – Kick Stands Up!
1:00 PM – Lunch @ Jack's BAR-B-Q / 1604 Lakeshore Dr, Lake Elsinore, CA 92530 / Menu / +1 951-245-6500
Route: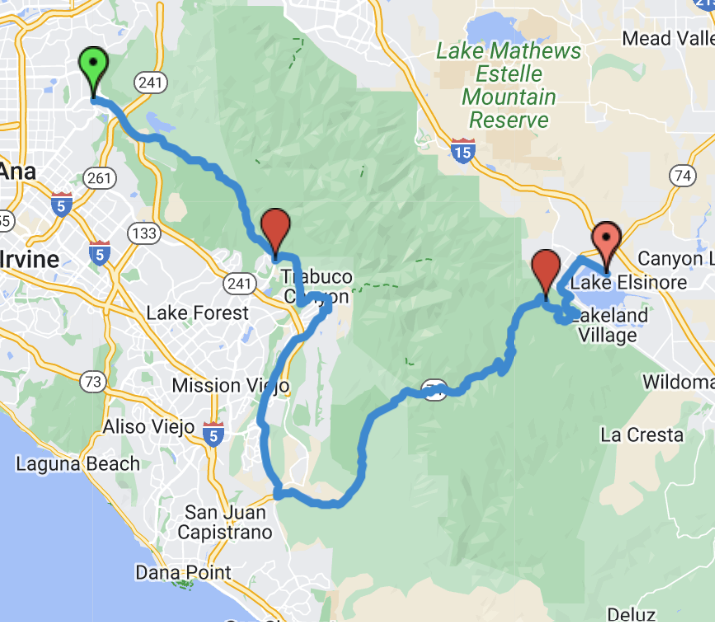 Ride Roles:
Planner: TBD
Leader: TBD
Sweep: TBD
Ambassador: TBD
Join the Discussion and share your awesome pictures in our Social Media links below.
Facebook ———> CLICK HERE
Meetup ————> CLICK HERE
Instagram ————> CLICK HERE